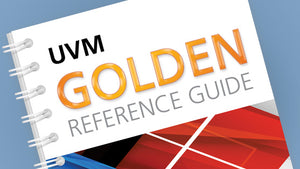 Including UVM 1.2
The Full Edition of the UVM Golden Reference Guide released at DAC 53, Austin in June 2016.

The GRG provides a compact, concise reference to UVM, the Universal Verification Methodology. The aim is to provide a practical, hands-on reference that complements the official UVM Class Reference. Packed with tips gleaned from Doulos's experience using UVM, the UVM GRG will help you find the information you really need.


The latest version of the guide also includes links to exclusive prepared examples in a live simulation environment using EDA Playground.


Contents
Preface
Using This Guide
A Brief Introduction To UVM
Finding What You Need in this Guide
Alphabetical Reference
Index
Buy Online
Number of pages: 340

As with all Doulos Golden Reference Guides, the GRG alone is not sufficient to learn the language or methodology, for which formal training classes are recommended (such as the Doulos UVM Adopter Class).
This Golden Reference Guide is also available as a Kindle e-book. You can find out more about this here