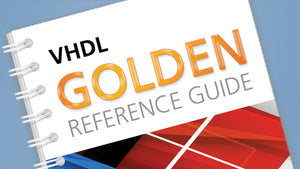 Updated to be in line with the IEEE std 1076-2008.

Packed with practical advice distilled from years of experience teaching HDL courses, these books are designed for the experienced design engineer. They are not intended as replacements for the official IEEE Language Reference Manuals, and do not offer a complete, formal description of the languages. Rather, they offer answers to the questions most often asked during practical application of the respective languages, in a convenient reference format.

The latest version of the guide also includes links to exclusive prepared examples in a live simulation environment using EDA Playground.


Contents
A brief introduction to VHDL
Syntax summary
Alphabetical reference
Index
Number of pages: 192
As with all Doulos Golden Reference Guides, the GRG alone is not sufficient to learn the language or methodology, for which formal training classes are recommended (such as the Doulos Comprehensive VHDL training course).
This Golden Reference Guide is also available as a Kindle e-book. You can find out more about this here